Management
Lisa McKerracher, Ph.D., Founder and CEO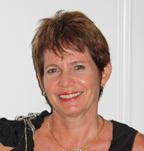 Dr. Lisa McKerracher is successful serial entrepreneur and business executive.  Under Dr. McKerracher's leadership BioAxone's lead compound, Cethrin, was developed in her first company, BioAxone Therapeutic Inc, a university spin-out. The company raised seed and first round financing, and initiated Phase 1/2a clinical trials in Canada and USA before Cethrin was licensed. After leaving the Canadian corporation, she was CEO of Emerillon Therapeutics, a company specialized in infectious disease and neurological disorders.  Dr. McKerracher later co-founded ReGen Nautic, a clean technology company. In 2011 BioAxone BioSciences  was formed and acquired the Cethrin program through a creative business deal. Dr. McKerracher brings her experience as an neuroscientsit and entrepreneur and her knowledge of Cethrin drug development to the newly established  company.
Currently, Dr. McKerracher is  an Adjunct Professor in the Department of Neurology and Neurosurgery at McGill University,  an Adjunct Professor in the  Department of Pathology and Cell Biology at the Université de Montréal, and a member of the Canadian Institute of Health Research commercialization grant committee.  Dr. McKerracher is well known in the field of Spinal Cord Injury and was recipient of the Christopher Reeve Research Medal for Spinal Cord Repair in 2000. She has published more than 50 research and review articles in leading journals and has edited a book on spinal cord injury. Dr. McKerracher holds a B.Sc. in Biology from McGill University, Ph.D. in Cell Biology from York University and completed postdoctoral research at the Worcester Foundation for Experimental Biology (Massachusetts), and McGill University.
Mr. Michael Cornelius, CFO
Mr. Cornelius has over 20 years financial experience, fourteen of those with the pharmaceutical/device industry. Most recently, Mr. Cornelius was a founding member of Emunamedica LLC, a medical device company in the wound care diagnostic market. Previous to that, he spent 10 years with Stiefel Laboratories as International Division CFO (2000-2004) and Global CFO (2005-2009). Stiefel was purchased by GlaxoSmithkline in 2009. Mr. Cornelius has 8 years experience in public accounting, and has a BS from Indiana University of Pennsylvania.